When my arty eldest, E, went to work recently with her oil pastels, I cheered her on and expected her to crank out her usual landscape or character from the Harry Potter series. Instead, she surprised me with a portrait of each of us with a stained glass window background. I was delighted to showcase her work on the previously barren foyer wall that cried out for some colorful attention.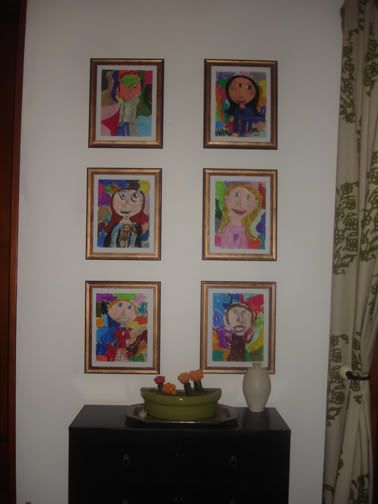 So how many monkeys does it take to fill up a wall? Six, apparently.
Now that I've given up our anonymity in exchange for compliments to my 7-year old, I will go ahead and tell you that I'm the fabulously coiffed and super trim dame on the top right. Ah, to be the hottie my daughter sees.
I'm a fan of black frames in general but wanted to give these cheap 11x14s from Family Dollar a little more interest. I used
gold leaf paint
to accomplish the look. BG used a level and a ruler to place the frames just so and then finishing nails and double-sided tape to secure them.
On to the giveaway portion of this blog post.
I haven't done one in a while
, and they are quite the thing in the blogosphere lately. Most bloggers pick a random number from comments. That's not nearly weird or entertaining enough for me. I'm going to make you work (hard!) at winning.
There is something special about one of E's pictured pieces. There's also a clue about the special attribute in this very post. The first correct guess left in comments will win a post-inspired prize (U.S. residents please; forgive me, Nadeve!). The guess period ends at 7PM Eastern on Friday, March 30.
May the odds be ever in your favor.
/comes off a "Hunger Games" high
P.S.--I promise
the prize is not a can of green beans
!