I'm assuming you know where that quote comes from.
The Princess Bride
, of course--
the most quotable movie on earth.
I had no idea what a kerfluffle my silly giveaway would cause. I had bribes, begs, and on-the-sly emailed guesses. I fear this will be a very anti-climactic reveal, but since all of my blog posts are, at least I'm consistent.
The weird item (refresher pic below):
Was...
[The white space is supposed to be building on the anticipation.]
A gimpy little green bean!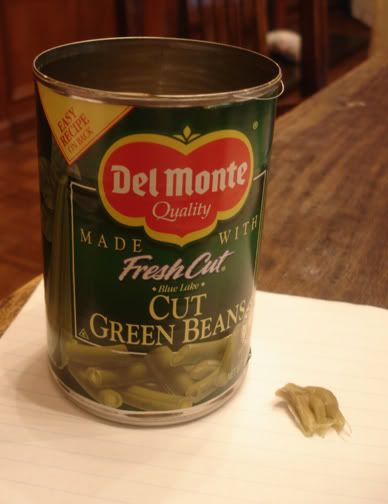 My eldest, to my foodie chagrin, will only eat canned green beans. It is like a stab to the heart every time she requests them and finds them delicious (as long as I don't *gasp* add salt or attempt to treat them with anything delicious!). When I opened the can and dumped them into the bowl for nuking, this little guy fell out.
No winners. I know you're all crying into your bowls of green beans, but it'll be OK.