Everyone is doing bloggy giveaways these days.
EB offered up an awesome book back in June
.
AspieMom is giving away a very different but also awesome book
right now. It's inspiring! I am nothing if not a sheep, so I am going to do my own version of a giveaway. It's not a book, but it was inspired by my book club. Sort of. It's always more complicated than that in my warped brain. Here's how it unfolded.
I spent Labor Day unpacking (still; shameful) and organizing because I am hosting my book club dinner in a couple of weekends and started to have mini panic attacks at the thought of my friends throwing open random closet doors to see how the G Family
really
lives.
Would anyone actually do this? No, probably not. But the fear felt very real this past Monday, and since it was productive fear, I embraced it.
As any super quirky house should, the G house has some secret closets. They're hidden behind these panels. Can you see them?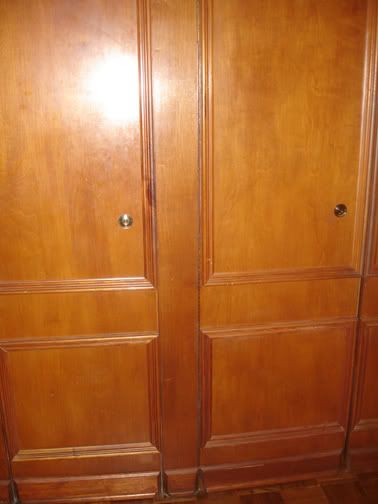 Wouldn't it be cool if these opened to a panic room? Or if I were important enough to have a panic room? But I digress.
They are simply doors to storage in the form of shelves, drawers, and a bar. A bar!!! This is what those sneaky little alcoves looked like before Labor Day: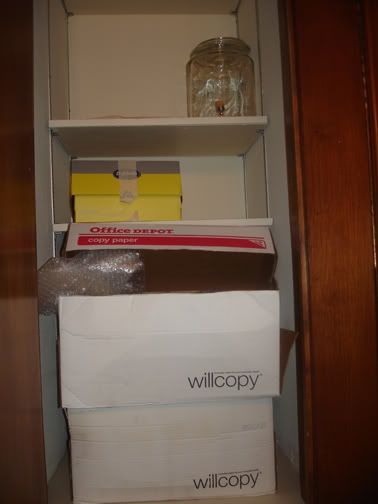 Wow, that's embarrassing.
I'm excited to share the after pics. You see, when I opened the boxes, sorted out the junk, let the kids rabble rouse with the scraps of bubble wrap until they were suffering *pop* *pop* auditory hallucinations (all in the name of getting them out of my hair), and gave each piece a home, the sum of the parts was actually lovely.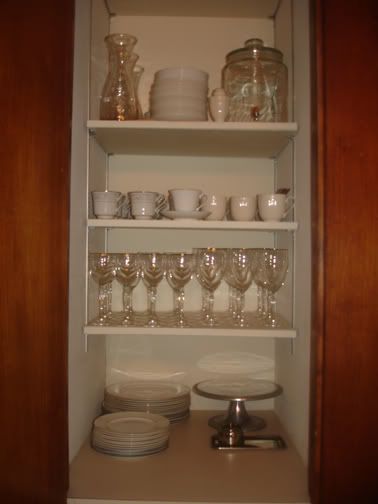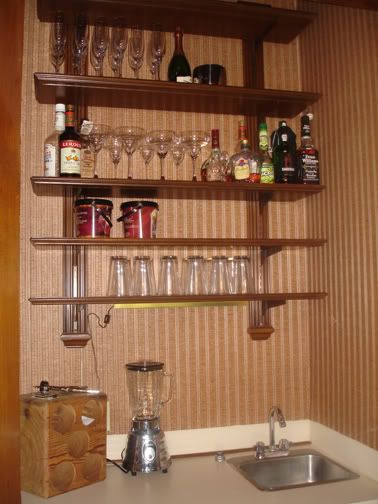 I find the spaces calming and aesthetically pleasing. I've stood in the open doorways more than once just to allow the control freak within breathe in the quiet organization. I have been so happy with it all, I was inspired to do a giveaway based on the experience.
And then my brain hit a wall, which is what happens when I try really hard to have my best thoughts. I couldn't imagine anything cool enough. I could give away my favorite organizational product, but that's only if I had one. Or I could give away my favorite cleaning product, but who gets excited about the Tarjay version of Clorox wipes. Other than me, I mean.
It was an MBG-brain-funk-idea-clogathon until tonight, when some really special randomness presented itself to me.
The little Gs said things like, "Ewwww! Mom! Kill it!" BG was confused when I offered it to him on a piece of notebook paper [<--there's a hint about scale!]. But I knew exactly what needed to happen. Out came the camera. It was just what I was hoping for to complete the Labor Day blog post / giveaway of my dreams!
The reason this... item... is so perfect is that it makes little sense without the rest of... them. In context, it's normal, but when it's isolated, as it is above, it's got the WEIRD! factor I just crave. And as a bonus for those of you who have shown excessive patience by reading this rambling mess from the top down, it fits the sum/parts theme I'm forcing here.
Here are the rules:
(1) Leave a comment saying what you think the item is.
(2) You may guess more than once! But please only one guess per comment (multiple comments are welcome).
(3) The contest closes Monday, September 12, at 6PM Central time.
(4) I'd love to open this up internationally, but it won't work :( US only, please.
(5) You need to have an email address or blog link, etc., tied to your profile so that I can circle back for your shipping deets.
The first commenter to guess right wins __________. You know what's coming, right? The sum of its parts!
Good luck!
Hint: It is not an anatomically correct Grinch heart.