One of my favorite moments in the movie "The Shawshank Redemption" is when Morgan Freeman's character, Red, uses the definition of geology--"the study of pressure and time"--as a metaphor for Andy Dufrene's story arc.
And now I have one thing to say to Morgan Freeman. Actually, no; two. The first is,
it's never appropriate to marry your granddaughter
. The second is, your definition of geology applies not only to our fictional protagonist but also to the pressure washing I unleashed on our front walk this evening. I thought of you the entire time I was out there, Morgan.
Well, you and Woody Allen.
If you have never experienced a good pressure wash, I highly recommend borrowing a machine. That will give you the taste for it. And then, like me, you'll find yourself in your local do-it-yourself center, plunking down $159.99 for the pressure washer of your dreams.
There is an almost sickening degree of primordial satisfaction that comes from harnessing all that H2O energy to remove layers of compacted filth littering the surface. It's addictive! I can't believe pressure washing hasn't caught on as America's favorite pastime.
This evening, for example, I intended to clean the slate that welcomes visitors to our property from the public sidewalk. I could not contain my pressure washing enthusiasm and made it up to the first brick step. I was a possessed pressure-washing maniac! I pressure washed as our neighbors returned home from work. I pressure washed as the senior citizen brigade strolled around the block. I pressure washed into the dusk. I didn't make eye contact with anyone. I'm sure they waved. I ignored. I was a woman on a mission. And how could I stop myself? Just lo.O.k at the difference.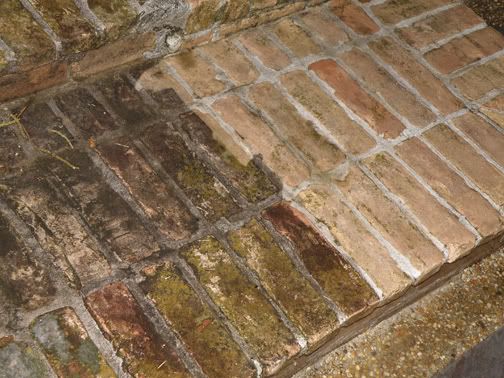 I have a long way to go to achieve total pressure washing success...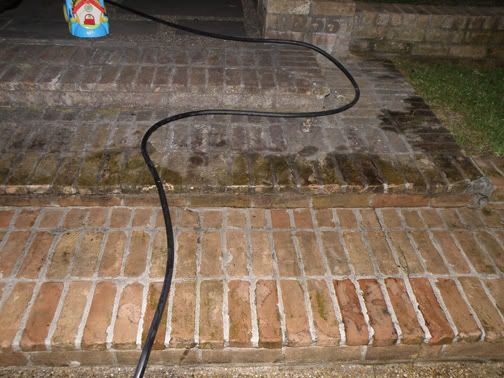 ...but just like Andy Dufrene's redemption, "That's all it takes, really, pressure and time." Instead of
a big damn poster
to help me out, I've got this: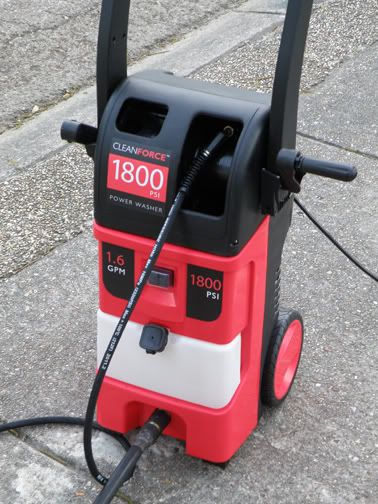 P.S.--If you are confused by this post, you have not seen "The Shawshank Redemption." Do yourself a favor and Netflix it RIGHT.NOW. Totally disturbing but also totally great.