I'm not known for my patience. I think BG's least favorite phrase around here is "I think we should..." because it ends with something I'm absolutely going to pull him into for the weekend because I just cannot stand to wait an hour or day or whatever time period seems logical to normal people. Lately I'm in a manic organization kick and must put things away NAO. This past weekend,
after my productive visit with BFF-J
, BG and I attacked our holiday closet. Tis the season.
Unfortunately, there are no before pics. This is not a pride thing, which you all know because I have proven I
have no pride when it comes to showing the dirty secrets of the G house
. It's a dead camera battery thing. But I did grab an after pic of the consolidated bows, ribbons, and tissue paper when the batteries were charged. I tamed the wild trimmings in a storage cube: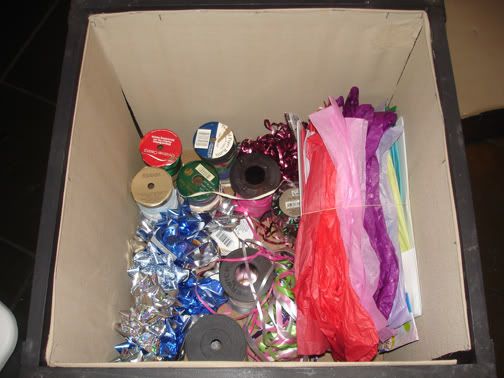 Items may or may not be color-coded. It's mania, I tell you; I can't be held responsible for my actions.
Filing tissue paper by ROY G. BIV [I kid. As you can see, the logical place for violet was the middle because all the blue and green could be neatly tucked in the binder pocket] is in my comfort zone. It gets my adrenaline pumping then, eventually, comes the calm. Occasionally I am gripped by the desire to craft, which is something very outside of my happy place. Though
crafting never really ends well for me
, I commit to my inevitable failure, grab some coupons, and brave Michael's or Hobby Lobby. What is it they say about the definition of crazy is doing the same thing expecting a different outcome? Too much reality. Or did I just break the cycle?
Yesterday after browsing some positively glamorous wreaths at
One King's Lane
, the creative bug bit. Since ready-made wreaths cost much bucks, I knew I could do cheaper, if not better, so supply shopping I went. At dusk and in a slight drizzle at about 40 degrees, I loaded up four kids in the carpool-mobile and hit the road. My wreath-making just could.not.wait, you see. Only by the time I got home with all the goods, it was dinner time, then bath time, then bed time, and
oh you have more homework, well come do it real quick
time. All day today I looked forward to coming home to my project, and even though I was working or running the roads until the sun went down, I wasn't about to let a little thing like darkness stop my plans.
I started with two large grapevine wreaths, a large poly-resin "G," spray paint, and a bow, which I made. BTW, did you know that grapevine wreaths--at least the ones I bought--are still made in the USA? Heck yeah! They're very inexpensive and have a lot of great texture. Could someone please make me a grapevine wreath spokesperson? I'd kill that job.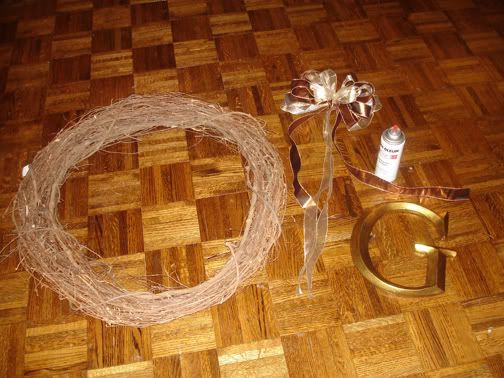 Did you hear me when I said I MADE A BOW!!! Actually, I made a matching (close enough) pair of them. Here's a closer look: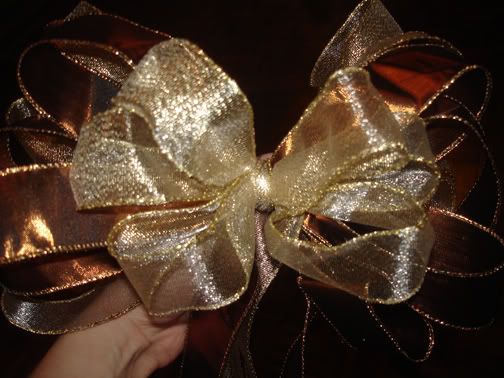 Alright, be kind. I'm a n00b in the bow-making world.
I'm going with a mix of metallics for my wreath--silver, gold, and copper. The "G" was a little too gold for my taste, so I took to it with "Champagne Silver" spraypaint.
Ah, that's better :) And is anyone surprised that I'm going to work a monogram into this situation?
I also sprayed the wreaths--first with a coat of bright silver, and then with the goldish silver.
And that's how the story ends, for now. I'm going to let everything dry overnight and then assemble them and then hang them. All with BG's help, of course. Hey, hon, I think we should...
I have a vision, and it must be realized!