Baby, it's cold outside! Grab a skewer, load it with marshmallows, and cozy up next to the G Family's first fire!
We had a fireplace at the old house but never used it. I had an irrational fear of gas-starter poisoning. I'm over it now. *double checks flue*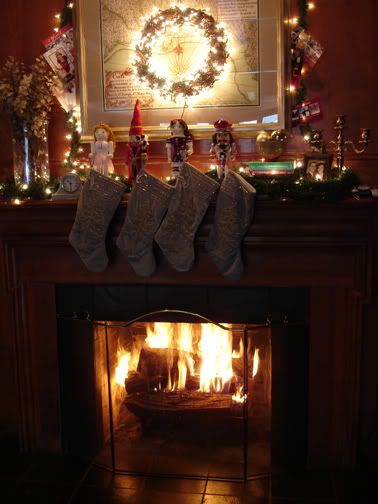 I didn't take anything down from
our typical mantel decor
. For the holidays, I just added to it: lit garland (pssssst: Dollar Tree! Grab some $1 garlands, layer them, and string them with lights!), a set of extra-large nutcrackers as stocking holders, and of course each kid's stocking--marked with an initial ornament for the requisite monogram detail.
My little clay bowl that always hangs out on top of a stack of books now holds gold ornaments, and the holiday cards we've received from friends and family are tucked gently behind
the giant map
, which is sporting a brightly lit grapevine wreath attached by a hook that is just out of sight from the camera.
P.S.--Dear Santa, I still need some candlesticks for my candelabra. Kthx.