Hello from the G house! It's been a while because I took a luxurious vacation to NYC and then recuperated for a week. I know--my life is hard.
Tonight I'm talking about an often blogged about decorating subject. The jhuhjing of the fireplace.
We have a huge fireplace in need of some decorating love. The fireplace is the focal point of the sitting room, has a cherry surround, library paneling, and dark slate. Boring, boring, boring. I'm surprised it doesn't give our guests narcolepsy.
Our old mantel at our old house sported an old mirror. For this house, I decided I wanted to do something a little less expected [No offense to the mirror lovers out there! I was among you for decades!]. Enter: BG's weird hobbies. BG is a man of many interests, and one of them is maps. BFF-J suggested on her first visit at our house last April that an old map would look really cool above the fireplace. Yes! Yes, it would! That little suggestion festered, and I became map obsessed. It doesn't take much.
I looked at probably a hundred online. Cripes! Do you know what huge old maps cost? Much too much for the Gs. I decided I'd have to improvise. Because this task didn't seem tricky enough, I decided the map needed to
mean something
. Furthermore, my heart yearned for a map in particular colors, like the
muted citrus I went with for the breakfast-to-mud room
. I didn't want just *any* awesome old map. I wanted one that probably only existed in my imagination.
I have several friends who are black belts in Google-Fu, so I put them on the task. One of them came across a map on Amazon. It was in the exact colors and specific region I wanted.
Muted citrus? Yes!
Gulf Coast focus? Yes!
The biggest damn map there ever was? No :(
I lamented the tiny perfection of the map for 24 hours before I got brave and contacted
the dealer
. As it turned out, printing custom sizes is what he does best. He also confirmed for me that the colors I thought I was seeing in my browser were pretty right on. The water really was more green than blue, and the orange was accurate. In the name of all that is fabulous,
we don't want any more peach in our lives.
He added that the original map (a 1747 French carte) was unusual in that it was painted, not drawn, so the reproduction had a watercolor quality to it. Who would have thought real maps could be better than imagined ones?! Blue Monocle provided an excellent customer service experience all around. Yes, please.
After express shipping, it was off to a local shop (coupon! score!), where I had it double-matted and framed. Lucky for me, the owner is also an art collector with a keen eye. When I told her I wanted to bring out the green in the map and frame it in something not gold but not silver but DEFINITELY not more cherry and stay within a meager budget (for custom framing, anyway), she knew just what to suggest. Here it is, fresh from the frame shop, in a distressed "champagne" frame:
Once in place, the map commanded the vast, empty, previously snooze-worthy space above the mantel. The map itself is 32 inches across, for context.
On to the next issue: I was not sure how to style the mantel itself. I looked at pics online and in magazines for inspiration. I tried a combination of: clocks, vases, pottery, books, frames, lanterns, candles, and random props including a diatonic accordion. Desperate for the right thing
,
I almost got into a late-night ebay bid war over a taxidermied baby alligator. Thankfully I was not the highest bidder on the forever-infantilized Cuban contraband reptile with marble eyes, and a little more online searching led me to the
three plus one rule
.
Decorators are evil for keeping this a secret. FYI.
As the link above will tell you, when you use three plus one, you cluster three objects on one side of the mantel and then use one object that is about twice the size or visual weight of the three combined on the opposite side. It's asymmetrical overall and pleasing to the eye, as in the examples at the jump. Here's how it all worked out for me: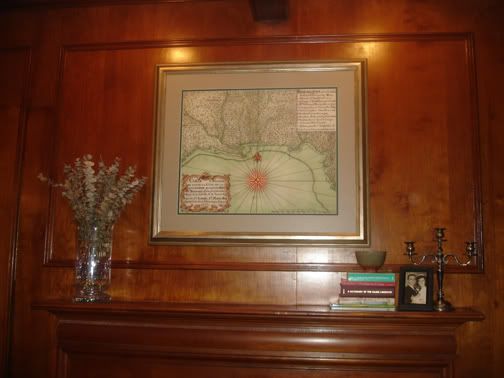 Since I was dealing with a large scale, I interpreted the "three" loosely to fit my size needs. A stack of books crowned with a piece of pottery counts as one. A photo of BG's parents on their wedding day is two. An old candelabra I picked up about 10 years ago in an antiques shop is three. <--He is so sad without candles. They will be installed. One day.
Here's a closer look at the three: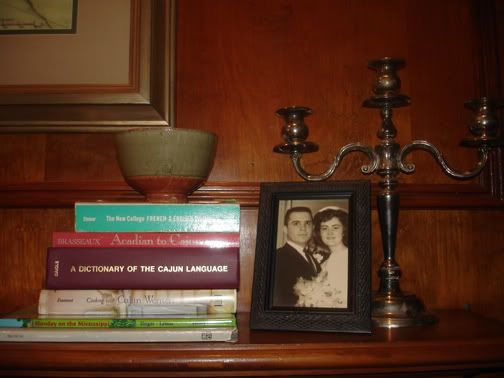 The books are all related to the French heritage that BG and I share, which I think/hope ties in with the map nicely without being too cheesy.
The big item is a very large glass vase with eucalyptus stems. The vase was a wedding gift. Awww.
I'm still adjusting to the finished product. For a shameful number of months, the mantel has been the resting place for remote controls, batteries, flash lights, light bulbs--clutter that belongs out of sight, truly. This minimal approach follows my natural design aesthetic, which is just a little under-done. I need a space to breathe... even if it does produce carbon monoxide.