When your second grader says, "Mom, that is what I call STYLISH," you know your project belongs in the garbage.
And that is exactly what happened when I covered a lampshade with fabric this past weekend.
Here is the lamp in its uncrafted and un-crapped-up state:
It's really fine. I wish I had left it fine. Where is that time machine I saw laying around? About five minutes after that pic was taken, there was no turning back.
The lamp and shade combo are about 10 years old, and I am frankly bored with the white. Plus it's a little dingy and a little dented and could use a little pizazz. What I *really* wanted was a gorgeous black drum shade. I thought it would be such a sophisticated, contrasting pop against the white walls of the foyer, where this lamp lives. Unfortunately, I fought my instincts and decided to go crafty and cheap.
Do you sense a theme? Yes, after back-to-back attempts at crafty and cheap resulting in humiliating and expensive (relatively, for fabric) mistakes, I've learned my lesson. When you have a vision for something, just save up and buy the thing--or a knock-off of the thing--you really want, unless you are a bona fide crafter, which, hey, you may be. I think crafty people know they are crafty, and posers like me know their limitations. And if I didn't last weekend, I do now--history being the best predictor of the future and all that cliched whatever.
If you need a wall repaired with joint compound or weeds whacked to hell and back out of an overgrown yard, I'm your girl. Otherwise, call my friend Stephanie :)
For your entertainment, I present pics of the shade gone bad.
(1) To the lamp-covering tutorial creators on the interwebz: Sure, your guidance worked great... if my lamp were preparing to walk down the aisle on her wedding day.
(2) And how about those seams, eh? No one has a good solution for this. The best that I can find is don't use a patterned fabric so the country-come-to-town hideousness isn't as obvious. Probably good advice in the end.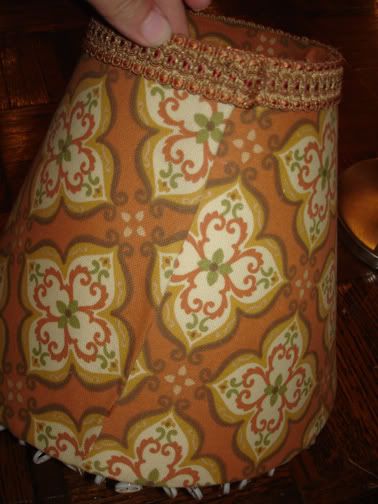 This weekend, we don't have much going on. I am planning a few projects, but I need to take my time and think through the details so I don't waste money, embarrass myself, and then seek absolution from blog readers.
As that lamp goes, I am reinvigorated to find just the right [store-bought] shade to complement it. Redemption is mine.