My mom used to say of my teenage morning routine: "Why do you bother putting on make-up if you're just going to wipe it off?"
Let's put aside that I look like a drag queen when I wear a face-full of make-up (no matter who applies it), and, instead, focus on the fact that foundation makes me feel like I'm wearing Play-Doh. Cannot breathe with all of that junk drowning my pores! Honestly, I'm having a little anxiety even typing about it. Make-up was never my thing, though I excel in other girly stereotypes. A little under-eye concealer, lash curler,
Clinique Black Honey
, and I'm out the door.
Today I learned that wax on/wax off is more than a deep thought of my adolescence or a mantra I repeat under the florescent light of my bathroom vanity. It's the awesomest way ever to faux-paint furniture. And why would I know that? Well, a few weeks ago, I became obsessed with this zillion-dollar console table from Wisteria:
I love the simple lines, the fresh green color, and the distressed finish. I started stalking the table even before I purchased
the fern drapes from my previous post
. I knew a console table like this would be perfect for our foyer. The thing is, I'm way too cheap to pay $999 plus shipping and handling for a freaking console table, so-pretty-it-almost-hurts though it may be.
Then I had what Oprah calls an "Aha! Moment."
BG rescued this old gal from storage last weekend: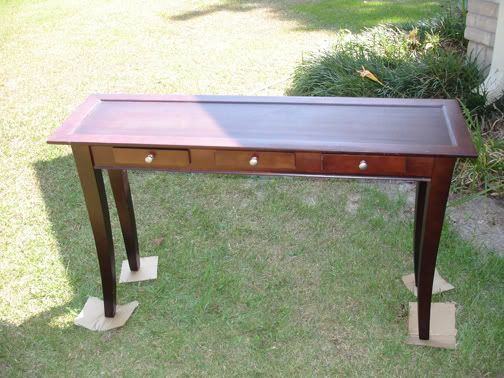 We bought it from Tar-jay about six years ago. It was intended for a hallway, and then moved into our master bedroom, and then moved into the furniture purgatory known as The Mini Storage when we were staging our old house for sale.
I know... this table is not the same as the Wisteria table even a little. Be patient. Good story telling takes time, plus MBG's had a margarita.
Don't judge.
It's Friday.
The console table didn't know what plans I had in store for her. I surprised her with them this morning.
I started with two coats of this product: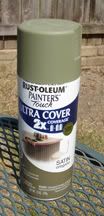 See?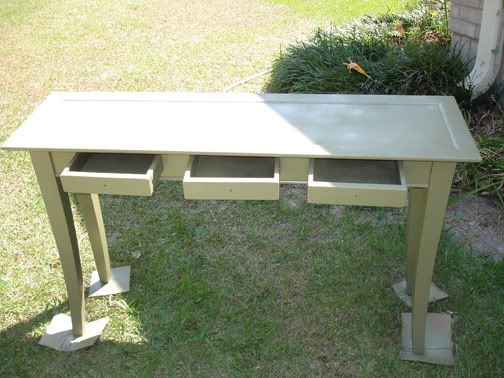 At this point I started sweating--and it wasn't just because of the 101* heat index. I sort of fear painted furniture because of the shabby chic thing. Don't get me wrong; I can appreciate the cottage aesthetic in other homes, but given my vision for Modern Southern Transitional, the G abode is not a good match. I took a deep breath and dry-brushed sections of the prepared surface with matte black flat paint and wiped it off with an old washcloth. Repeat. I never used sand paper or steel wool because I didn't want a scratched appearance. I left the matte black heavier in some spots than others to legitimize the "antiquing." I also changed the hardware. An hour later, here was the finished product: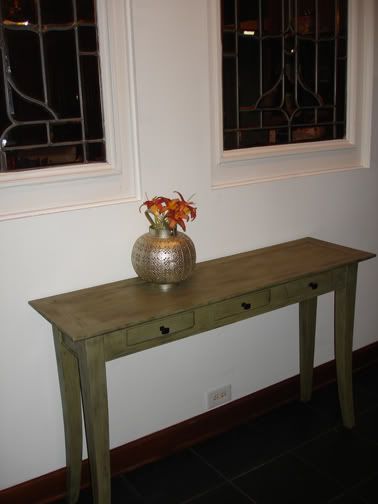 And a closer view:
If you compare the Wisteria version to mine, it's sort of reminiscent of
The City Mouse and the Country Mouse
. For the cost of paint, I'm good with that ;)