I love a gourd. Every fall, I re-read
this blog post
, shared by a friend, dedicated to the season's most ubiquitous symbol.
WARNING: LINK NOT FAMILY FRIENDLY! CONTAINS ADULT LANGUAGE! LOTS OF IT!
Isn't that inspirational? It makes me want to get my fall on and reminds me that Halloween is just around the corner. And it's lucky I've got something to light a fire under me because our neighbors really up the ante for seasonal decorating. We moved in this past April, when everyone had gorgeous yards and smart spring landscaping. Now it's October, and there are scarecrows, pumpkins, and hay stacks as far as the eye can see. We prettied up our porch a little, with black urns, mums by the gallon, and a pair of asparagus ferns in an old basket, as well as a gourd topiary (that's my fave, a fairytale pumpkin, on the bottom):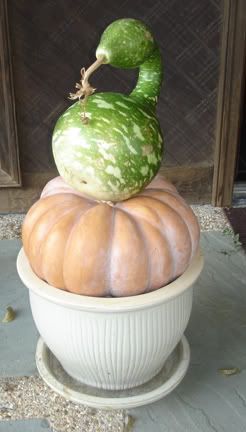 But I yearned for something a little macabre. What's Halloween without a touch of dark and scary? And as it goes--ask and ye shall receive--mother nature presented me with a little gift.
Outside with the kids one evening, we were collecting leaves. They are not the beautiful reds and golds you find in most of the country. Here we get brown leaves prized more for their kinesthetic crunch than their ochre and umber. Our boy, W, who is just shy of three and finds joy in the simple things, was particularly excited about his collection and sorted through it proudly when, at once, his older sisters shrieked in his direction.
Among the leaves rested a dessicated frog body--shaped and colored so much like a leaf, it was easy to see how W mistook it for one. Its eyeballs were long gone, transported from their sockets in speck-sized loads by the ants in the neighborhood. With a sudden awareness that he possessed an object worthy of ridicule, W kicked at the dead amphibian. Our baby pointed with her chubby index finger and begged in curiosity and confusion, "Dis? Dis?" The older girls ran screaming in circles, wishing it away.
As for me, I shoved it in my pocket. Sorry, folks, this is NOT going to be a giveaway! In a jar, labeled "SPECIMEN," I think it will be just the ghastly touch we need in our Halloween decor.