Lil C turned 2 on April 23, and we hosted a birthday brunch. Why brunch? When I asked what she wanted for her birthday, she replied gleefully, "Tan-takes!!!" Pancakes are her favorite.
This party post isn't about a proper project, but it was a lot of fun and was a little crafty, so I thought I'd share.
Since brunch is a mid-morning event around here, I went with a roosters/chicks theme. I commissioned a rooster applique t-shirt, which C wore as a pajama top.
My buddy Kristin at etsy's V. Lou Textiles
does the most gorgeous applique and silk screening work. I highly encourage you to stop by her shop. Here is the finished product. Could you die from cuteness?
Since we have four little chickens of our own and I never want our friends to feel obligated to buy FOUR gifts per year (ugh!), we invite families based on kid ages after the first big bday, where everyone is invited. We had four non-family kiddos at this party and then cousins and nieces/nephew plus the bday girl's siblings for a total of 13 children. I needed a craft that even itty bitties could feel good about with limited input from their moms whose busy hands were filled with mimosas. And, friends, isn't that what brunch is really about? I landed on the idea of fabric markers and placemats. I traced roosters for the kids and let them do the rest of the work. It was a hit!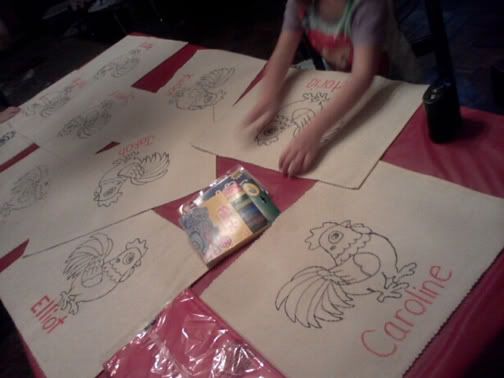 I set up a pancake buffet, having made a huge batch of pancakes the night before, using
this recipe
but subbing vanilla almond milk for dairy because of C's allergy. I simply reheated the pancakes in the micro in a couple of batches then set them in a chafing dish to stay warm. The fixins were two types of syrup; fruit including strawberries, blueberries, and bananas with brown sugar and cinnamon; sweetened shredded coconut (I was surprised at what a hit this was!); miniature chocolate morsels; powdered sugar; and of course whipped cream. Lil C blew out two candles stuck in the pancake stack of her dreams.
To supplement the pancakes, we had a potato-cheese-bacon dish, biscuits, juices, coffee, and something else I'm forgetting now. D'oh!
After all the noms, the kids played an upside-down-bobbing-for-donuts game <--at this point, I should just commit to writing this entire blog post in hyphenate. Jeez-a-loo.
Here's a pic of the near-victor. In a last minute upset, my first-cousin-once-removed, the sweet guy to the left, just out of view of the pic, won. He was gracious and shared his prize--sugared gummy bears--with all the participants.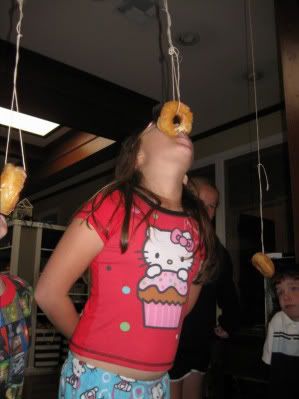 The party was short and syrupy sweet, and the birthday girl had a super happy day. So far 2 is looking really good on her.