All of the blogs I'm following these days are books in the making. If I had a book deal (which I so do not), I'd call it "Quick and Dirty DIY for the Soul." Sometimes you just need a little success to remember you can rock a DIY at any scale. That is what I needed today. And this table was the target.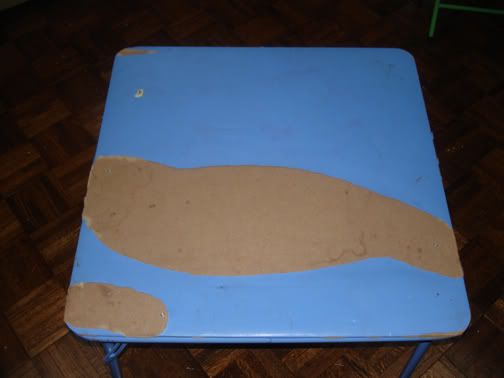 I wish I could say that BG dumpster-dove for this beaut. But he didn't. No, no, this is just what the G-chickens
do to things
(i.e., they destroy them). This table is a few years old and has outlived its made-in-China-and-sold-for-$15-with-four-chairs-at-Big-Lots life expectancy. To that I say pshaw. It's time for you to be fabulous, wee crappy table.
A few weekends ago, I picked up a yard of oil cloth on super-duper clearance. I saw it. It saw me. Even I am ODing on all the damask in this house, so the zebra stripes were a welcome change. It was marked at $3.99 a yard and rang up at half that. Oh, hai, come home with me! I know just what to do with you!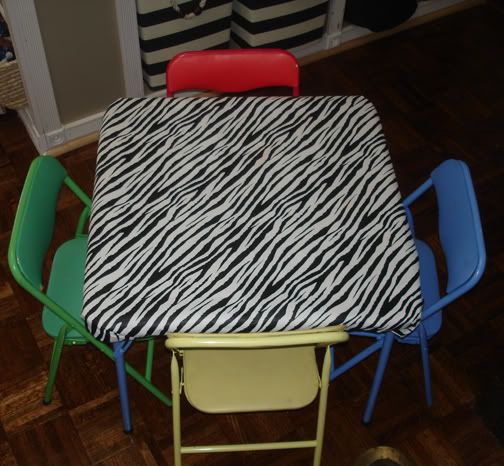 All I needed was a staple gun, but I over-achieved and layered the upholstery job with a table pad (white, from Target, for about $10). This way if--or rather, WHEN--my children abuse the oil cloth, I can gank it off and still have a non-hideous table between destruction and replacement.
The corners are not upholstery perfection. I could tack them down. Eh, I'll probably get to that the same weekend I finally paint out the trim on
the shelving unit
pictured behind the table.